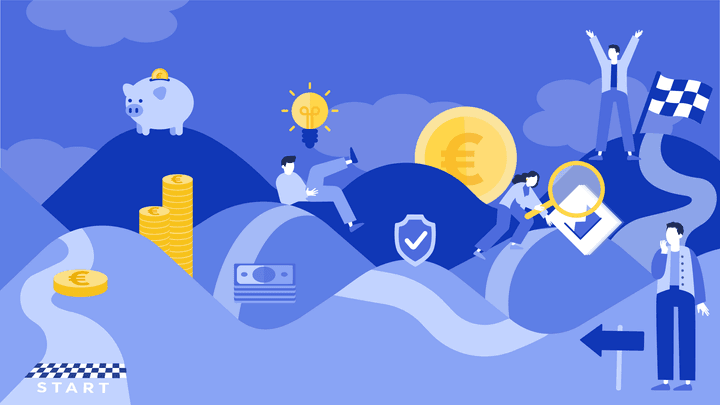 Les avantages des banques en ligne
It is hardly surprising that all of the big traditional banks are launching their own online banking offer . Indeed, the French have become fond of this type of service and their use should increase significantly over the next few years.
L'ouverture d'un compte sur livret est une action qui t'engage auprès d'un prestataire. Afin d'être sûre de faire le bon choix, tu peux comparer les différentes offres présentes dans notre article.
The rise of online banking
If online banking offers have existed since the mid-90s, it is clear that it took more than 10 years for the market to take off. This can be explained by several factors, in particular the rate of households with access to the internet which increased sharply during the first decade of the 21st century with in particular very good coverage of the entire territory and the confidence in the security that users begin to have.
In addition, the explosion in the use of smartphones on the French market is a plus, allowing internet banks to attract customers who appreciate this type of dematerialized service.
Benefits of online banking
Among the many advantages of being a customer of an online bank one can note the reduced banking fees , various services accessible via the Internet allowing an almost immediate execution and this 24 hours a day and 7 days a week and an undeniable time saving. Indeed, there is no need to travel to request a service, to waste time waiting for you to be received or even to be dependent on the opening hours of the bank branch on which you depend!
The vast majority of online banks offer the same services at fairly similar rates. Thus, account maintenance is free, the linked bank card is also free and we also generally benefit from an overdraft authorization.
However, be careful with "all inclusive" offers which include many services that are not necessarily always useful for everyone. It is sometimes better to benefit from the basic offer and pay for one or two additional services each year rather than subscribe to a pack which is much more expensive in the end.
In the end, having an account in an online bank costs nothing or less than in a traditional bank. And for the most skeptical, nothing prevents having bank accounts both in a traditional bank and through an internet bank.
---
---
Ces articles pourraient t'intéresser