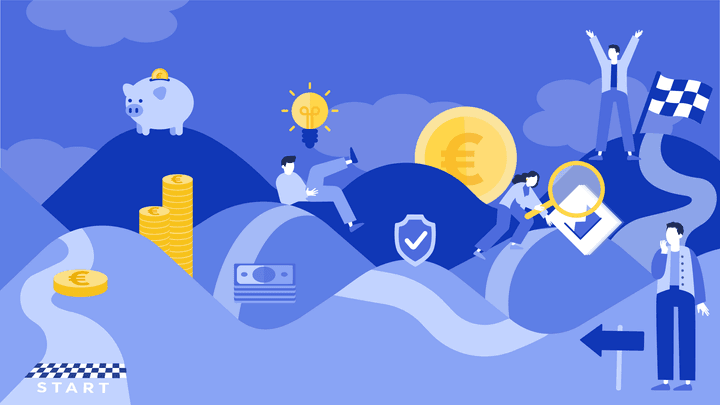 Le mythe du gain rapide par l'investissement en bourse
I have been investing in the stock market for many years now and every day I meet future stock marketers baited by the idea of ​​easy and / or quick gain. It is this unfortunately too recurring situation that has led me today to write this little column.
Notre comparatif contient des informations te permettant de trouver un compte CSL qui répond à tes besoins.
You have certainly already heard this advertisement with that irritating voice with an indescribable accent that explains to you not understanding how in 2017 people still manage not to make money on the Internet … (Yeah, let's see!) yet simple: on the stock market there are more losers than winners among stock marketers who seek short-term gain. The average loss is even € 10k on neophyte stock marketers.
A simple explanation: predicting the stock market in the short term is not possible
Warren Buffet, a great guru of financial and stock market investment, sums it up perfectly: "In the short term the stock market is a voting machine and in the long term a weighing machine". On average only 10% of stock marketers who engage in day trading are winners. It's been little.
Some will still come to think that these 10% prove that it is possible! But how many of these 10% are winners in the long term and for what gain?
If it was possible to predict overnight stock market prices with tools, we would have known for a long time. There are, however, many varnished theories of a scientific aura such as forecasting theories such as Elliott waves or fibonnacie ratios, which are only attempts to rationalize and model chaotic events. You will also come across many tools that will make you want to believe that predicting trends is possible.
However, you must understand that, on the one hand, the rapid gain whether through the stock market, binary option, forex or other does not exist and that, on the other hand, even in the long term it will exist. always a risk that will not be negligible unlike a real estate investment for example. In addition, there are significant costs inherent in your investments which make the task even more complex, we quickly find ourselves in a situation with, failing a loss, a gain of 0 €.
To conclude, making money on the stock market is possible but there is no simple method, just a long learning journey. This journey will be a combination of patience, reflection and learning. You will need to arm yourself mentally to resist the possible swing. 
---
---
Ces articles pourraient t'intéresser